This house used to be a cowshed and even though it's right on a street got the cost of the connection to the power grid out of control. There were moments in the middle of the night where we thought we were building this huge house and we will never be able to live there because we won't have electricity.
But the house is 75% finished this is now becoming a massive crisis. The building faces south and surrounded by open fields. It is located north of the town of Shaftesbury from the 8th century in Dorset, England. At the beginning of 2018, construction work began on the conversion of one large farm building to a residential building. The core structure from a concrete base with sheet steel construction, which has a metal-clad roof remains within the same building area and has been converted into a large five bedroom property rebuilt in which Vanessa, Bruce and their two teenage children should live.
Okay this is a little embarrassing a bit naive but up on the hill that we've been driving up and down for years, there are also cables on the lower power lines, but in between is the part where the barn is and our first thought was: we are right on the street, we are not a quarter of a mile away so we plan maybe 5,000 for the power connection, but unfortunately there was nothing and the connection was a good 600 meters away. So it's been a long way for the wiring and it was going to be very, very expensive. The estimated cost of either to walk across the fields of a neighbor, so all the way sheets and things that you need, or should we deal with the problem later, but the cost ranged from £ 60,000 so far beyond what we had set out to do, and up to 160,000 pounds, that we didn't have.
We thought for a good nine or ten months that only in this way would we be able To have electricity in this house. With the stress level at an all time high and the glitz and the excitement of a homemade one disappeared, they made a spontaneous visit at a national home building event in a local town. There they made contact with Ian Hewson from Off Grid Engineering. I briefly described what we had but with a rather pessimistic view and said I'm sure you don't will be able to help and Ian immediately said yes, we will be able to help you. I often think that the off grid cases, until it is actually in operation and working, people look at it like it's a bit like black magic and they are not entirely convinced until they actually see it in operation. Ian came here very early and met with our electricians and plumbers, who were full of doubts. They completely doubted Thomases and said never use air source heat pumps and everything from a network-independent system will operate, and after an hour of conversation with Ian, I remember Ian leaving and they looked at me and said he could do that.
And it was like watching how the scales fell from the eyes of the air spring man, because he suddenly said: Oh, can it work? He threw a lot of numbers at Ian and Ian was able to put them all up. People only look on the sunny side and not on the bigger picture and the memory that comes with it, and on the technology that is available now. People are still not really aware what we can do. That was one of the best moments and it happened right here in this kind of inner room. It was kind of a Damascus moment it was extraordinary. So the nightmare was over and the property can now be without the hefty price tag receive the energy required to connect to the grid.
Something below the main building was a field facing south, and here Ian and his business partner Scott decided to install the solar system. We found out on this piece of land here a natural contour was present, on which we secretly put a couple of panels could install tubs in this Renusol Console. So they are actually made from recycled plastic made, and on each tub there is a panel, and inside we only have ballast. So we can use them for a floor-mounted one, for example Use an array or on a flat roof. If you have a permanent structure in the UK, of course you need a building permit or a permit from whomever the governing body may be, for example in a national park or in a special place scientific interest.
So the use of tubs is in the UK really useful because they are semi-permanent structures. They do not have to be reported in the planning. It has very, very little visual impact and can be moved easily. I mean literally we can snap off the panels from these, the blocks inside remove, redirect a cable and remove it and install it in a different location in one day. But the amount of solar cells installed is not the first thing to be decided. Usually this is what we would look at in every situation, differently, every customer is different. We'd get their peak loads and view their continuous loads. This would give us the size of the inverter charger choose, in this case a Quattro with 15 kVA, to cover all of these eventualities. For inverter chargers of all sizes do you need an equivalent battery bank, which is capable of this inverter charger to be supplied with sufficient power immediately. So this is a secondary consideration and of course this battery bank must be be big enough to hold them too to give a few nights of autonomy, when we don't have a lot of exposure and the solar input is low.
And then probably the last consideration how many panels are you using? A general rule of thumb for me is the seasonal fluctuations to be taken into account in the UK. Ideally, I want to be able to do one almost charge empty battery bank in about two hours. To this end, Off Grid Engineering did 80 monocrystalline modules with divided 335 watt cells and monocrystalline cells installed and the number of modules required by around 30% oversized, which is due to the flat angle of the land and bucket combination for this location. Four strings of five modules each are to its own Victron Energy SmartSolar, MPPT 250 volts, 100 ampere charge controller powered in the weight room. This is done via an underground armored cable within a 10 centimeter pipe, that was relocated by the builders. So we used the four charge controllers and they are along with an inverter charger wired with 15 kVA and three BYD battery banks. So they are all in parallel wired to the Lynx bus distribution system and secured inside. These are from BYD and it's 13.8 kWh Lithium-ion phosphate batteries. One of the reasons we use lithium ion phosphate use is quite obvious in the number of cycles it has over its lifespan can achieve, and the guarantees that we can give on what is far better, than lead and so cheaper in the long run and then you look at yourself, lead-acid batteries To replace it, I mean literally you'd have to get a room full of lead-acid batteries have the same effect to achieve as we have achieved it here.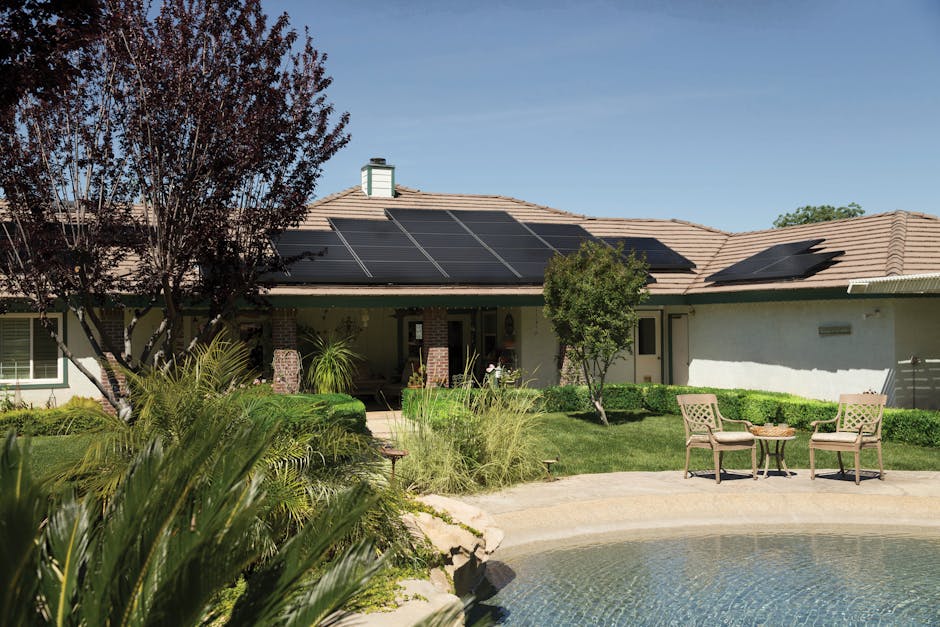 It's also the speed with which you can charge and discharge the battery, which is an indication of the C-rate. These are lithium iron phosphate batteries, which are particularly suitable for renewable energies, if they are operated with a solar cycle. So the closest C-rate would be a C-10. So in this case we can with a C rate of 0.7 C. load and unload, which means we have a lot Electricity into these 40 kWh batteries and can pull out of them, and that fits very well to what the inverter charger and the 15 kVA Inverter chargers can also charge and discharge, so that the relationship between the inverter charger and the battery bank is really pretty critical.
Any battery goes to their own Blue Sea breaker and then a mega fuse to the Victron Energy Lynx distributor. All three 48 volt batteries as well as four MPPT controllers are all via their own installed mega-fuses of the Lynx power supply wired in the busbar. The DC bus bar will then with the 15 kVA Quattro wired to the electricity to be converted into the 230 volt supply in the house. In the 4,800 square foot home is cooked with liquid gas, and on the back of the property an underground tank was installed. Even with the excess solar panels there will be days when the burden is heavy and the light outside is just not enough to keep the batteries full, especially when it is there are a number of cloudy days in a row. To cover this, Ian has a Kohler RESA 20, LPG generator installed. Ian has calculated the system in such a way that the generator only then used when absolutely necessary and with a maximum usage of less than 10% in an annual cycle. When the house is full and the kids are here and we have numerous baths or showers and two ovens are in operation, and there are two televisions and music centers and all the rest of it.
I don't think the generator will start. So we live almost exactly as we would have lived if we were connected to the grid, but I suppose it's fascinating now to try everything from the electrical panels and not to be kept away from the generator. To be able to keep an eye on your system Ian and Scott installed a Victron Energy Octo GX, simply because they were at the time when they were the additional connections needed, since they had so many MPPTs, all data online sent to the Victron Remote Management Portal. I check it out sometimes if i'm traveling for work, maybe i'm in another country on the other side of the planet and I think I'll go see what's going on at home.
And it's a bit of a game but it really teaches you to start analyze exactly how you use your energy, and i think that's not a bad thing. It's not about being frugal per se, but it's just fascinating and I still have a little urge Turning off the light, of course, in summer it plays Doesn't matter at all, but I guess why more burn as we should, and especially in winter, if we use a lot of liquefied gas, so why not try to put this on hold. So in the last 365 days came 7% of the electricity from a generator, 36% directly from the sun. So this is solar power going into the DC bus bar and converted directly to AC loads. And we have 57% that comes from battery storage. This electricity was stored and recovered from the batteries converted to alternating current, which is pretty typical, namely less than 10% which is exactly what we are looking for.
So we have 7%, with one and a half winter are included in the data. So it will probably be a little less depending on what time of year Look at the overall statistics. If we look at the VRM we can see that the house in the months of March to October exclusively has used renewable energy from the sun. The generator was up until October 3rd not activated at all, and even then it wasn't on every day. We are constantly busy with the system optimize and check and change the parameters, where we can turn on the generator, and this time too we are looking for possibilities how we all of this excess energy maybe for charging of electric vehicles or for one can use additional hot water preparation, to make them even more efficient. We can go to the smallest detail and see that the batteries last six months in a temperature range stayed between 16 and 29 degrees Celsius. You can see this state of charge curve over the summer, in which the batteries last for many months in a row were about 90% full.
During the last 12 months have their 26 kilowatt solar cells 9,876 kilowatt hours of energy generated, of which 3,835 kilowatt hours were used immediately and 6,041 kilowatt hours were used to charge the batteries. If we switch to the consumption table, we can see the generator last year Generated 876 kilowatt hours of its energy. With the installation of VRM Bruce and Vanessa have full access on as much data as you want. The system is updated every minute, so they like Ian and Scott from Off Grid Engineering are always up to date. This system has been in operation for 16 months and has proven that large buildings are still quite simple benefit from off-grid electricity. See the description below for a link to one Blog from May 2020, in which the house was presented. There are also links to off-grid engineering and the devices used in this installation. We first had to realize how about the batteries, the inverters and an emergency generator works for times in winter, in which we use more electricity than we generate, but Ian was fantastic and because it is very mathematical, he was very, very clear, his understanding, and of course he also mentioned a few numbers, That was a brand new project for him he came back and said it will definitely work and we made very fast progress and for our clients and for so many people involved did it really, really open our eyes but also for us, we've been on a somewhat strange path get exactly what we wanted but we couldn't be happier with it.
Friends are always very surprised that we didn't answer Network are connected and one of their questions is normally see if your excess energy is now feed it back into the grid, which of course doesn't the case is because we are not connected to the grid. So it takes a while for people to really understand that we are completely self-sufficient. Boldly tackling something difficult. So when you build a house I would anyone even if it is directly at a point, to which it could be connected to the network, really urge this as an option to be considered, be it in whole or in part. But I think we all have to try To do our part, we were forced to, but we are really very happy that we made it. Bruce and Vanessa were used to connect to the power grid quoted a price of £ 60,000- £ 160,000. Their off-grid system was £ 54,695. LPG cost for the first year was £ 2,650. You don't have an electricity bill. Energy. At any time. All over. victron energy – blue electricity.